The casual observer may mistake the objects in the following photo gallery as "ordinary".
This is hardly the case, and exactly the kind of error a "Lump" (non-Traveler) can make.
Please take the time to read this summary of what makes a True Wand a Wand.
Photo Gallery Starts Below on this page...
* * *
A few words about "Magic Wands" and THE BOOK OF WANDS
ALSO check out "Carolyn's Snake Wand Photos"
* * *
Below is a photo of a real Flying Broom.

This Wand (and yes, Brooms are a species of Extentio Humerus, or "unusual tools"), has flown off the wall into the center of my living room on seven or eight occasions.
This has happened three times while my wife and I were in the room. In the other incidents we heard it and ran into the room to see what had happened, as there is usually a very loud "bang" when it occurs- a sound considerably louder than the broom simply landing on the floor.
It was always securely fastened very well with the hook, and took considerable muscular effort to remove it from the hook, as it was wedged it quite tightly.
The final time it flew, we were watching TV (the set about two feet from the broom), and we witnessed it directly coming off the hook completely by itself. N
A painting by Julia hangs next to it. www.JuliaPainting.com We have yet to ascertain exactly why it did this, but there is no normal physical explanation whatsoever that would be responsible. We do know that a woman committed suicide in our apartment a few years before we moved in. (The landlord never mentioned this to us, but we found out from a neighbor later.) Perhaps her ghost had something to do with this phenomenon.
Finally in 2017, the broom fell apart from all of it's flying. The "brush" part of the broom was made up of hundreds of strands of wood, and could not be repaired, and thus it was discarded. I still have two other similar decorative brooms, but neither of those have exhibited the flying behavior- yet. The broom was made by a woodshop teacher at East High School in Denver in honor of the Harry Potter stories. No one had expected or predicted its rather unique qualities of flight.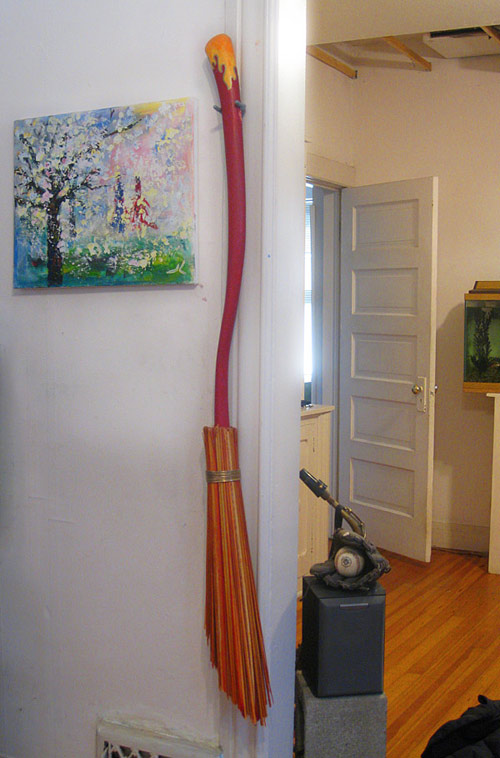 To see next Photo Click Photo above or NEXT PHOTO
Buy The Book :
M
AIN ORDER

Much more at
The Amazing Brain Book and Music Store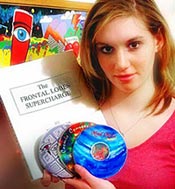 Please also enjoy

Contact Neil