Neil, I received your complete set a little over a week ago, and have been practically consumed by it! It is nothing short of fantastic. There are so many things that you describe in Frontal Lobes Supercharge that have been occurring to me all of my life, it is unreal! The Brain Radar for instance, really struck a chord. I learned at a very young age to always follow these feelings. I've always referred to it as "knowing" - or "I just knew". Believe me, I learned the hard way what happens when I don't take heed! I also love the other books, the music, Free Dirt, and the interview with T.D. Lingo. - O.K., I love it all, it's great! I could rant and rave about so many wonderful things but I guess what I really want to say most is "Thank You, so very much!"
I must also add, last weekend I took my fiancée to the zoo for the experiment you suggested. It was a beautiful day, and the powers that be were on my side! I was clicked forward all day long! It was absolutely incredible!........... My sweetheart is very interested in this but is having a bit of a hard time clicking forward. I started the day early, by mind gazing at the stars from before dawn 'till after. My fiancé joined me shortly after I got up. I told her that "Today, I am going to show you a graphic example of how to click forward, and then tell you other techniques that you can use to do so by yourself....... I explained to her what the "deal was" as we went, & shortly after I got to the point of telling her to watch the people, she was astounded! It all hit home!
Any way, this is great, great stuff and may the gods, the powers that be, &/or the universe shower you with blessings for bringing all of this out in plain English that we can all relate to! - Marty
"Hi, I received my books and I can't tell you how excited I am! (I want to place three more Complete orders)....Thank you thank you thank you!" One more (phone message): "Okay this is Ed, I want ALL the items that are available, let me repeat that- I want every item that you have for sale, I WANT IT! Let me say it again, I want to buy EVERY SINGLE ITEM that you have for sale............. I am an ex-Marine and I want to throw my rifle down and explore the UNIVERSE!"- E. Mitchell

An ASTONISHING Brain Presentation

A lifetime of Audio, Video, and

Printed Brain Adventure

on DVD

Contains EVERYTHING* published on this web site:

for

both Windows and MAC users

(*Not including Tickle Your Amygdala or The Secret of The Dormant Brain Lab)

40 HOURS of Brain Adventure Audio, Video, Music, and PDF Books for portable players,

computers, and stand alone DVD video players....

Perfect for laptops, portable audio and video players, trips, vacation, gifts, anything!

Plus INSTANT ONLINE DOWNLOAD of all 5 Brain Books, passkey sent immediately upon payment.

3) These Complete Brain Books in Adobe PDF computer readable and printable form- unlimited hours of enjoyment and learning:

Have Fun- Anti-Rules For Life Learning and Everything Else

The Self-Transcendence Workbook

These books are on the physical DVD, AND you will also be sent the INSTANT ONLINE ACCESS to the downloadable versions of the books upon payment.

2) Every Brain Audio Book and Brain Audio Music Album in the highest quality MP3 variable bit rate for easy direct transfer to all portable players, and playable on any computer, and all content burnable to CD for audio in standard CD players.

All 3 Brain Audio Books, un-abridged and complete, read by the author:

Frontal Lobes Supercharge Un-abridged Audio Book

Brain Lab Talks Live Lecture Series

Have Fun Anti-Rules Audio Book
Mind Music Modern Electric keyboard
Amygdala Brainbites Brain pop/rock
People's Symphony/Tao of Jazz Orchestral and Jazz
Piano Impressions From Another Dimension Classical/Modern Piano.
Tippy Pop/rock with Saxophone Selections
Invisible Music Modern Jazz Fusion.
Free Dirt 2 CD Set Humor, Story, Wild Music, Audio Musical Story Book
Introduction to Brain Magic Bonus
Audio book and Radio Interview, music selections
Bonus Albums Exclusive to this DVD:
Good Morning- Good Night
Classical Wake up- Bedtime music
Zee Brainwave Popsicle
Brain Pop-Rock
A Starry Night
Relaxing Drifting Brain Music
Just the Free Dirt Only, Please
Music Only Selections From the Humor Musical Book
7 additional hours of discussion with Dr. Jeffrey Mishlove, James A. Jancik, Lynn Thompson, and more.
3)

An Amazing Brain Adventure Film (5 hours of video and audio) playable on any computer or stand alone DVD/TV player --INCLUDES FREE free DVD to iPod/Creative Zen/Zune portable player conversion software

These books are on the physical DVD, AND you will also be sent the INSTANT ONLINE ACCESS to the downloadable versions of the books upon payment.

Also Bonus Brain Lab Reports:

Stress Relief Games &

Self- Peak Experiencing

And additional bonus material:

4) 99 fun and colorful rare photos (most previously unpublished) from the vaults of Neil Slade and Brain Central.

5)

Important and key Brain Web Page articles detailing the material contain on this DVD, usable online or offline.

This SUPER WHOLE UNIVERSE BRAIN DVD will LAUNCH you into ANOTHER

DIMENSION of Pleasure, Intelligence, Creativity, ESP, and Turn on Your Brain Like Nothing Else!

Absolutely Secure and Safe 128 Bit Encrypted ONLINE ORDERING BELOW
AMEX, PAYPAL,
All Credit Cards Now Accepted Through The Paypal Portal-
No Paypal Account Needed- No Extra Charge
Please read the SHOPPING CART PAYMENT instructions- thanks :-)
(Yahoo email customers, Yahoo blocks my online passkey autoresponder,
please email me upon purchase, and I will manually send the online portion neil@neilslade.com- thanks)
Individual Value of Combined Items is Over $220
All of this, Brain Blast Special SALE $44.95
($4 First Class Shipping Worldwide)
MORE BELOW
Extraordinarily Superb Artistry

and Inspiration

Now Available Again

Limited Supply
BRAIN ADVENTURE DVD Incredible & Unique - for SMART People

PRINTABLE Individual BRAIN BOOKS

see below on this page- All fantastic!
---
BRAIN AUDIO AND MUSIC CDS
BRAIN RADAR AUDIO CATALYST
See DETAILS HERE
Natural Brain Radar Catalyst Audio CD $9.95
Includes first class postage:
EXCITING NEWS! All Brain Music CD albums have been
digitally re-mastered and they sound SUPER!


LISTEN TO STREAMING SAMPLES HERE
These new CD re-masters are the best possible, no noise, high fidelity, state-of-the-art editions of these albums we offer. They sound FANTASTIC!!! AND, we offer them to those brain music fans who want the BEST, at a VERY reasonable price. We can keep the prices at $7.95 because OWN the record company. Make no mistake- these CD's sound better than any MP3 file. AND most of these CD's have a hand placed 4 color label, unlike mass produced 2 color printing on commercial CD's. Each CD is a SINGLE album described below.
DETAILS ON INDIVIDUAL CDs and SETs BELOW
acoustic guitar
Mind Music modern electric keyboard
Amygdala Brainbites brain pop/rock
People's Symphony/Tao of Jazz orchestral and jazz
Piano Impressions From Another Dimension classical/modern piano.
Tippy pop/rock with saxophone selections
Invisible Music modern jazz fusion.
Free Dirt 2 CD Set humor, story, wild music
Introduction to Brain Magic Bonus
audio book and radio interview, music

Audio Book CD Sets
1. Frontal Lobes Supercharge CD set 5 CDs, Totally un-abridged and complete, read by the author- VERY cool!

2. Brain Lab Talks CD set 3 CDs, historical and informative live presentations, groundbreaking brain theory and practice

3. Have Fun!- Anti-Rules For Life, Learning, and Everything Else 2 CDs, Fun, rebellious, non-technical lessons for turning on THE OTHER 90% of your brain- the FUN WAY
---
---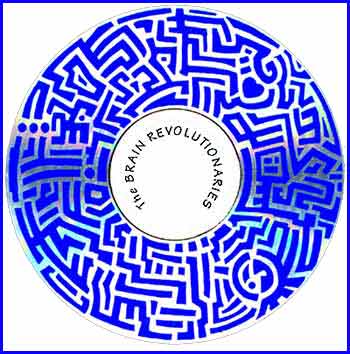 SPECIAL AUDIO CD Set The TOTAL BRAIN CD SET:
Coast to Coast Spcial $49.94 --- 20 CDs and 1 DVD - Get a tremendously satisfying and enlightening 20 hours of Brain Audio Book and Brain Music CDs. This includes the Frontal Lobes Supercharge Audio 5 CD set AND The Brain Lab Talks 3 CD set AND Have Fun! Anti-Rules 2 CD Audio Books, the bonus Bonus Lab History and Interview CD, plus all 9 Brain Music CDs listed below. Also includes the hand-autographed Neil Slade Zow-X mini-poster: See PRINT . Each CD comes in a rugged, cool clear scallop shell case. $49.94
INCLUDES An Amazing Brain Adventure DVD Free!
Also includes Free Instant Download UN-abridged FLSupercharge Online PDF Interactive Book (see Cornucopia for details) You will receive a password shortly after payment to instantly download this book after you place your set order below.



Contains these CDs:
Frontal Lobes Supercharge Complete Un-abridged Audio Book - 5 CDs, 6 hours
Brain Lab Talks Set - 3 CDs, 3 hours
Bonus Brain Lab History and Interview CD - brain lab Interview, history, story, brain theory and lesson, 70 min.
Have Fun! Anti-Rules for Life, Learning, and Everything Else - 2 CDs, 2 hours PLUS Illustration Image files
Contains All 9 Brain Music albums
Cosmic Conversations CD - acoustic guitar
Piano Impressions From Another Dimension - solo classical/modern piano
People's Symphony/Tao of Jazz - both symphonic and traditional jazz quartet
Mind Music - modern electric piano and keyboard
Tippy - pop/rock, and saxophone virtuosities
Amygdala Brainbites - brain pop/rock
Invisible Music - non-conventional space fusion jazz (think Frank Zappa- cool!)
Also includes these two bonuses:
An Amazing Brain Adventure DVD
Frontal Lobes Supercharge Online Download Book
All of this, only $49.94, $7 shipping USA and INTERNATIONAL
To order click the Shopping Cart button below:
---
BRAIN MUSIC CDs
Listen to Samples Here
and also from links below


Acoustic Guitar Brain Music COSMIC CONVERSATIONS CD Features Neil Slade and Eric Vincent on acoustic steel string and classical guitars, with some added surprises! Maybe the BEST Brain Music recorded yet! Absolutely flawless and outstanding sound quality, recorded fully digitally. This music is getting GREAT reviews by everyone. Brain Music will help your brain do things ordinary music can not, will not, and does not do. You and everyone you know will LOVE this CD- and so will your brain- no doubt about it. Hear album samples here! CD comes in a unique clear scallop shell case. Just $7.95 Includes 1st class postage.
To order the CD album, click this button

MIND MUSIC CD This is the timeless BRAIN MUSIC SuperCharge for your Mind/Spirit/Brain/Body. Phenomenal World Class musicianship here, jazz/classic electric keyboards delightfully seasoned with a bit of flute and sax. Pure Brian Music Power, sophisticated and energetic, Mind Music plugs your brain into the Essential Universal Music Vibe Connection. You will love listening to this CD in the car, at home, entertaining your guests and friends. Maybe just the best instruMENTAL music you'll ever hear! $7.95 in a cool clear scallop shell case, includes 1st class postage.
To order the CD, click this button:
---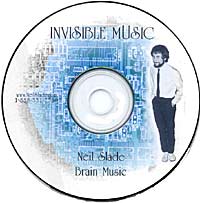 INVISIBLE MUSIC CD: INVISIBLE MUSIC CD: Holy Moly!! Year 2000 COMPLETE DIGITAL RE-MASTERof this INCREDIBLE Electric Jazz Album. VERY melodic and wildly enthusiastic musical energy. TURBOCHARGE your brain with this really FUN and ENERGETIC modern record. Invisible Music (and isn't ALL music really invisible?) is a perfect blend of way-out space age instrumentation with classic acoustic instruments- the best music this side of Venus! Flutes from Europa, Saxophones from Pluto, pianos from Vienna, synthesizers from Mars, drums, bass, even a little singing ("You Cause A Nuclear Reaction Inside My Heart"). Music for a Brave New Universe. A blast! NOT for Squares! Features many GREAT musicians- Comes in a cool clear scallop case. $7.95, 1st class postage included. 3 Tune Streaming Sample Click This! (This instant streaming web sample much lower quality than CD) "This new re-mastered CD sounds GREAT! You'll love it!"- N.S.
---

AMYGDALA BRAINBITES CD Once again back by popular demand, with a brand new Color-Cortex label (see the sample right here..), and a NEW SONG not on the cassette, this PURE POP/ROCK BRAIN MUSIC CD will have you humming and bopping along in no time. Teenage Brain Revolutionaries Sarah Rubow and Ruti Mor join Neil for some of the catchiest, most melodic yet intriguing original Brain Pop/Rock music you will ever feast your ears on! Electric guitar, drums, bass, synth- Take THIS LINK for the full story and complete downloadable music samples. Don't be OLD. Get ABCD! Comes in clear scallop shell case. Just $7.95 includes 1st class postage.
---

PIANO IMPRESSIONS FROM ANOTHER DIMENSION CD is thoughtful and playful piano solos recorded on a 9 foot Baldwin concert grand. Many of these compositions appear on other recordings here, but these are the original pure classical renditions on keyboard. Makes you SMARTER and more EFFICIENT as you flow and connect via the CLASSIC COSMIC INTELLIGENCE MUSIC CHANNEL. Suitable for any listening environment, dinner, work, driving, etc. This tape is good for relaxation and/or refreshing the brain. Years of music listening, for just $7.95, includes postage.
---

TIPPY This is the second great Brain Pop/Rock with Instrumentals album, and it covers a LOT of territory. A really FUN bunch of truly catchy tunes- you'll be singing along instantly- segues into some truly memorable masterpieces of melodic ingenuity, then seamlessly transforms into some AMAZING saxophone goodies. 45 minutes of Pure Musical Bliss, electric and acoustic guitars, drums, bass, synth, and sax. "Your voice is so COOOOOL!" -Michelle P. a satisfied customer. Only $7.95, 1st class postage included, you'll groove along to this album into the next century- Everybody LOVES Tippy!

---
THE PEOPLE'S SUITE for SYMPHONY ORCHESTRA plus The TAO of JAZZ Double Feature CD This CD teams up two distinct albums-Parallel Universes you might say- with wonderful new digital re-masters of the original master tapes and a bonus track. The first is a complete orchestral suite, The People's Symphony, featuring members of the Denver Symphony and other professionals, along with detailed digital synthesized orchestral parts. This recording has toured the U.S. as part of a Kodak photograph exhibition and premiered nationally as the soundtrack for a PBS documentary to rave reviews. The conclusion of the symphony will blow your mind-and click your amygdala forward big time. Also includes a couple of extra chamber music compositions. Beethoven, roll over.... This CD then switches gears to The Tao of Jazz for complimentary acoustic traditional jazz arrangements of some Slade original favorites, featuring Neil plus three incredible jazz musicians. The combination of classical symphony music followed by great jazz, makes for an extended pleasurable Brain Music Sensation! Just $7.95 includes 1st class postage, quite a brainy good deal!
---
FREE DIRT Story and Music TWO CD SET. Funny stuff here- This CD is a MAJOR IMPROVEMENT over the cassette due to state-of-the-art noise reduction. This is The WORLD'S FIRST Autobigraphical Musical CD Book! It tells the story of Neil's STRANGER THAN FICTION YET TRUE LIFE OF MUSIC between the ages of 5 and 21. FREE DIRT is a humorous collection of stories, and the actual music that was created from the unusual circumstances of growing up an unconventional mind in a conventional cowtown (Denver). Features dozens of talented and BRAVE musicians! Warning!>>>> WILD AND WEIRD! This music is truly THE OUTER LIMITS- yet REALLY cool and HIP. If you are a boring, uncreative person with no SENSE OF HUMOR, forget this!. If you are truly CREATIVE, INTELLIGENT, and LIVELY- this IS for YOU! 2 CD's $10.95
6 CDs Remember how you LOVED having a book read to you as a kid? Now you can listen to author Neil Slade read the complete and un-abridged Numero Uno Brain Book to you in a way that nobody else can, this is the BEST..... FUN- EDUCATIONAL-STIMULATING- CONVENIENT! ZOOOOOOM your brain with SIX hours of incredible, brain info and stories on five CDs. Listen ANYWHERE, and Supercharge Your Brain on the go, in your car, on a plane, jogging, anywhere. You also get of course, the BONUS Introduction to Brain Magic CD, making six CDs total. This is the REAL deal, like private Brain Lessons,
$14.95 ($4 Priority Air Shipping Worldwide) Smart and Smiling!
---

SPECIAL AUDIO CD Set #2 AUDIO
3 CDs For more than a decade, author and musician Neil Slade presented a series of public talks, classes, and presentations with Brain Lab director T.D.A. Lingo. These talks introduced and helped people to understand the focus and the ongoing groundbreaking and pioneering work of the lab during the years 1957-1993. Here are three historical examples, featuring the director himself explaining BRAIN in a way that no one else can, or has yet! VERY rare one-of-a-kind recordings from Slade's personal archives, available nowhere else. You can now hear these historic presentations and hear the history, the science, the philosophy, the methods....... You are THERE. This set contains one studio presentation, and two live lectures at Colorado State University and the University of Denver. Three hours on three audio CDs with additional introductory material. This set contains three hours listening education and ENJOYMENT. Available only here, priced perfect, for true Brain Explorers like you, $12.95, postpaid.
To ORDER ON CD
Click the Shopping Cart button below:
2 CDs Remember hopping into bed and having Mom or Dad read to you? Or your favorite teacher in Kindeegarden? How Captain Kangaroo or Mr. Rogers? Now you can listen to Brain Funman Neil Slade read the complete and un-abridged Numero TRES Brain Book to you in a way that nobody else can, this is the BEST..... FUN- EDUCATIONAL-STIMULATING- CONVENIENT! ZOOOOOOM your brain with TWO hours of incredible, helpful, funny, EDU-TATIONAL stories on two CDs. Listen ANYWHERE, and Supercharge Your Brain on the go, in your car, on a plane, jogging, in bed with the lights out, anywhere. This is like having your very own Anti-Rules Private Tutor- stashed inside your CD player. Learn how to ditch and navigate all around those dumb "grown up" boring horrible rules that keep you clicked backwards--- and CLICK FORWARD with Fun Anti-Rules that SET YOU FREE! $9.94, postage included. (Audio portion on CD1, Audio and Illustrations on CD2, opened by any photo/illustration computer program- for almost unbearable delight!)
To ORDER ON CD
Click the Shopping Cart button below:
BACK TO THE MAIN BRAIN BOOK STORE